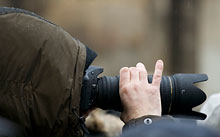 Entities seeking professional surveillance in Santa Rosa often choose Whitestar Group for their complex investigations. The Whitestar Group investigations unit provides quality video surveillance documentation in the Santa Rosa area and throughout Northern California. As a surveillance investigator capturing evidence, context, and impugnable corroboration is "mission critical" when in the field.
The investigative staff at Whitestar Group specializes in insurance, attorney and business related surveillance services. Many of the country's leading attorneys, employers and insurance companies rely on us to conduct surveillance. When looking to obtain the services of a private investigator, evaluate the experience and training of the company you are hiring. Just because they are a private investigator doesn't mean they have conducted surveillance. At the Whitestar Group, you will be paired with an investigator that has extensive knowledge and experience in the specific discipline you are hiring us for.
The Whitestar Group investigators are highly experienced in all types of surveillance including surveillance conducted for insurance fraud, child custody and matrimonial/fidelity issues. We use state of the art digital video cameras to visually document the activities of the investigated person. If the situation calls for it, we can employ the use of concealment cameras or mini body cameras. While we are tactfully aggressive in obtaining whatever evidence there is to collect, we adhere to the laws in order to preserve the evidence should it be challenged.
Contact The Whitestar Group today to schedule your video surveillance consultation in Santa Rosa and the Greater Bay Area.