Private Investigators Training Seminars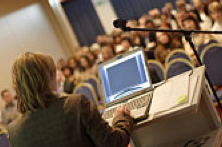 The team at Whitestar Group is dedicated to providing investigators the fundamental training required to perform specialty insurance and private sector related investigations. Our seminars combine the use of fundamental techniques, concepts, and methodologies with practical classroom and field exercises to ensure students have the opportunity to practice what they learn in a controlled setting. The curriculum reflects emerging "best practices" and proven methods that yield consistent results and commendation by evaluating entities.
Lecture, student participation, practical exercises, and tests are incorporated to guarantee that each student understands the practical application of critical knowledge, skills and techniques required of today's private sector investigators. Throughout the program, each trainee must participate and confirm they have a firm understanding associated with the principles of a continuing case investigation. Whitestar Group has chosen specific curriculum because these particular skill sets crossover between all forms of investigation whether the client is public sector, private sector or consumer based.
Completion of our entire training block will provide our students with the skills and confidence necessary to accept insurance related investigation requests with the knowledge that they can complete the case in a timely and thorough manner.
2014 Class ScheduleDatePrice
| | | |
| --- | --- | --- |
| AOE-COE Claim Investigations (16 hours) | TBD | $249 |
| Case Prep & Report Writing (8 hours) | TBD | $129 |
| Investigating Personal Injury Cases (8 hours) | TBD | $129 |
| Surveillance (Subrosa) Investigation (16 hours) | TBD | $249 |
LIVE Training Schedule
Whitestar Group is proud to announce the development of our LIVE online video conference training seminars. The core program curriculum is broken into smaller segments and hosted with a smaller group of online attendees eliminating the need for students to travel or arrange hotel accommodations. The curriculum and class dates will be announced in the spring of 2014. If you would like to be included in on our Training Update list, please fill in your contact information in the form below and we will add you to our prospective student list.
GROUP TRAINING
For companies, organizations or cooperative groups who would like to train a number of investigators at a lower cost, Whitestar Group will be offering a limited number of group seminars throughout the year. Our trainers will come to your location and complete any one or combination of courses listed above. If you would like to learn more, please fill in your contact information on the form below.  Our training coordinator will contact you to answer your questions and schedule the training.